Der Songwriter Ezra Furman gastierte am 23.11.2019 im Hamburger Molotow. Vor dem Konzert gab es das ausführliche Ezra Furman Interview.
Ezra Furman Interview und Konzert-Review
Samstagabend auf der Hamburger Reeperbahn herrscht reges Treiben. Menschenmassen bewegen sich vorbei an Clubs und Bars und überall leuchtet es in bunten, grellen, betäubenden Farben. In gleißendem Neonlicht gehaltene Reklamen werben mit Sex für 39€ und Shots für 1€.
In einem dieser Clubs auf der Reeperbahn, dem Molotow, sitzt gerade ein junger Mann, weit angereist aus Boston, Massachusetts, dem diese sündige Welt vor der Tür gerade nicht fremder sein könnte. Dieser junge Mann ist Ezra Furman. Während sich vor dem Club, in dem Ezra Furman diesen Abend noch ein ausverkauftes Konzert spielen wird, die ersten Schlangen vor dem Einlass bilden, lässt dieser gerade den Sabbat, den jüdischen Ruhetag, der von Freitagabend bis Samstagabend andauert, ausklingen.
"Welcome to my office", sagt er, während er sich auf einem grünen Samtsofa im Backstagebereich des Molotows niederlässt und beginnt sofort davon zu erzählen, wie er die letzten 24 Stunden verbracht hat. Er würde die Regeln seiner Religion in vielerlei Hinsicht streng befolgen und während dem Sabbat nicht reisen, kein Geld ausgeben, kein Telefon oder andere elektronische Geräte benutzen und auch keine kreativen Arbeiten verrichten.
"It's such a beautiful world of peace and it almost feels like a more real version of myself. And on Saturday night I wonder 'can I hold on to that spirit through the week?' And it is hard", meint er.

Ezra Furman ist der Nachfahre von polnischen Juden, die während der 1930er Jahre vor den Nazis in die USA flüchteten und er selbst pflegt seine Verbindung zur jüdischen Tradition intensiv, mehr als es seine Eltern täten. "It was a big part of my upbringing, but I do it in a very different style compared to the way I was brought up with. Basically, I am more traditional than my parents were. But we had Friday night dinners every week and celebrated Passover in a very serious way. I guess I went more traditional than they brought me up. And they were surprised by that. I went to a Jewish school until I was thirteen. I learned a lot and later I got into it on my own terms and realized that now that wasn't in that school anymore, no one was going to make me do it.
And then I saw what was serious about it. Which I could probably talk forever about, but there are other things to say, too."
My religion is political
Ezra Furman bricht seine Gedanken abrupt ab. Bei unserem letzten Interview, im Jahr 2016, hat Ezra Furman sehr lange und ungebremst über seine Liebe zum Judentum gesprochen und obwohl er im Umgang mit Interviews mittlerweile routinierter wirkt, die Pausen zwischen seinen Sätzen kürzer geworden sind und er schneller das Gefühl zu haben scheint, zum Punkt gekommen zu sein, wirkt er vorsichtiger bei der Art, wie er über den intimsten Teil seines Lebens, die Religion, sprechen will.
Wir schwenken also um zu Politik und ich werfe irgendwann die Frage auf, warum in Zeiten ökonomischer und sozialer Krisen, die Menschen eher dazu tendieren autoritäre Parteien, die oft eine starke Austeritätspolitik verfolgen, zu wählen, obwohl Tendenzen zu einem Wohlfahrtsstaat mehr Sinn machen würden. Eine Sicht, die Ezra zunächst nicht ganz zu teilen scheint. Vielleicht liegt es an der oft zu bemerkenden amerikanischen Art, Sozialismus misszuverstehen und ihn mit einer radikalen Linken gleichzusetzen. Vielleicht aber auch daran, dass Ezra Furman sich nicht gerne mit einfachen Thesen und Antworten zufrieden gibt, egal, um welches Thema es sich handelt.
"Also, a safety net is not always the opposite of facism... well, I guess in a way it is... It's been different at different moments", überlegt er.
Dass Nationalismus erstarke und autoritäre Bestrebungen in Regierungen zunähmen, stünde jedoch auch für ihn außer Frage. Die Ursache dafür sähe er unter anderem im Syrienkrieg.
"So many people left Syria and there is a lot of migration of refugees. It is a classic thing for facist people who are hungry for power to blame people who come from somewhere else. Strangers, immigrants, refugees. And they use that to do this whole genre of racist politics."
Da einer der vielen Auslöser des Bürgerkriegs in Syrien auch die Wasserknappheit infolge längerer Dürreperioden wäre, könne man indirekt auch den Klimawandel verantwortlich machen, meint er. "I think climate change is driving a lot of major issues and a lot of fear. I think we all need to learn how to welcome strangers. There is a commandment in the Bible - since we've started with traditional Judaism - to love and welcolme the stranger, the immigrant, the person from another place. It is fundamental to my moral and ethical life that when you feel like an outsider that should motivate you to be good to other outsiders. And that should be woven into the fabric of a good society. Religion and politics are woven together for me. My religion is political".
Tatsächlich drehen sich viele Songs von Ezra Furman um klassische Outsider-Themen, um Verlorensein, Verletzlichkeit und das Gefühl, niemals dazuzugehören. "Does writing and singing about these things feel cathartic to you or is it sometimes distressing?", frage ich ihn und er denkt lange nach, bevor er antwortet.
"It is distressing. The really bad feelings that I put into songs that perfectly capture that bad feeling, they cause me to relive that bad feeling and carry it around with me. It is not cathartic to express them, but it is satisfying to say something true. I know it sounds contradictory, but it is both things at once. It is satisfying to get it emotionally right and also it is distressing to stay with that feeling so much."
Gibt es denn Momente auf der Bühne, oder kurz vor einem Gig, in denen er sich denkt, 'Ich will den Song heute nicht spielen, weil er zu bedrückend ist?'
"Once in a long while, yes. But usually not, because usually I am not thinking about myself or my experience. I am thinking about the people who are here to see it and to see what I can provide. Nothing is so horrible to perform. It is always a joy to play music, especially for people who want to hear it. I actually don't think about how I feel when I am performing. I try to make something happen that is worth seeing. I like to re-enter the feeling of the song, for sure, but it is a bit of acting too. It is more like re-visiting myself when I felt that way."
Die Songs von Ezra Furman haben etwas sehr Beatles-esques an sich, in dem Sinn, dass sie sehr melodisch und fröhlich klingen, sich aber im Kern mit ernsten und traurigen Themen befassen. Während die ersten Platten von ihm noch harmlose Indie-Pop Platten waren, hat er sich definitiv weiterentwickelt und mittlerweile einen eigenen Sound geschaffen, der geprägt ist, vom Rock'n'Roll der 1950er und 1960er Jahre und auf seinem neuen Album "Twelve Nudes" schimmert auch zum ersten Mal seine starke Liebe zu Punk Musik durch. Man hört ein bisschen Buzzcocks hier, ein bisschen The Clash da.
"We made our first record in 2007. I have gotten better at songwriting. And at singing and playing guitar, making records. At everything. I don't love my early records. They're not for me anyway, so it doesn't matter, if I love them. And I don't get to say if they are good or not. But when I hear them now, I'm like 'I would do everything differently', but that's because I know more things and know how to do them differently."
"Are there lyrics that you don't identify with anymore or that you feel uncomfortable singing?", frage ich ihn.
"There are some old songs, that I would not sing. Not because I think they are wrong, I just think they are bad writing. And I am very uncomfortable with bad writing. And maybe it is not fair to them. It is a bit like putting a baby picture of you on a billboard. Or a picture of yourself when you were fourteen. And people would think it was you now and what you want you want to look like. I try to think if I have some sexist songs or something", überlegt er und lacht. "I don't think I do, because I was... not as good a feminist as I am now, but I was a feminist since I was a teenager".
Ein Feminist ist Ezra Furman auf jeden Fall geblieben.
"Fuck Reeperbahn misogyny", schreit er später während dem Konzert auf der Bühne und fordert jeden im Publikum dazu auf, es sofort einem Clubmitarbeiter zu melden, sollte man während seiner Show belästigt werden, oder mitbekommen wie jemand anderes belästigt wird.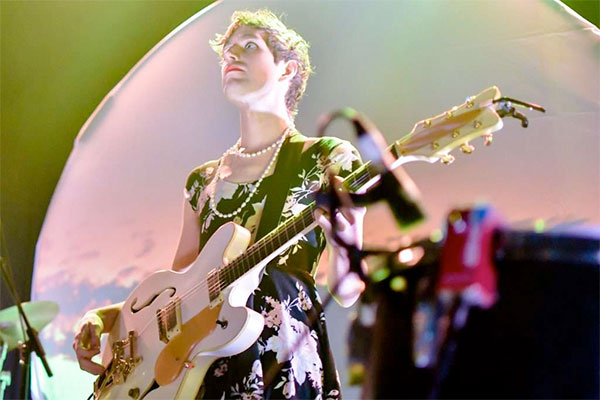 Man mag die Beteuerungen von Ezra Furman auf der Bühne, dass seine Konzerte ein "safe space" für jeden - vor allem nicht-heteronormative Personen - seien, belächeln. Doch wenn man zu jenen gehört, die auf dem Weg zum Konzert von Ezra Furman auf der Reeperbahn von Männern 'Hey Mäuschen!' gerufen wurde und unzählige andere noch sexistischere Sprüche über sich ergehen lassen musste, oder wenn man als Frau bei dicht gedrängten Konzerten immer wieder Hände von Männern, die "versehentlich" unter T-Shirts und Röcken gerutscht sind, wegschieben muss, oder auch wenn man sich offizielle Statistiken zu Morden an Transgender-Personen ansieht, laut welchen es im Zeitraum 2008 bis 2017 insgesamt 2609 Morde in 71 Ländern weltweit gab, davon 181 in Ezras Heimat, den USA, dann vergeht einem das Lächeln über diese Ansagen.
Sexismus findet man in den Songs von Ezra Furman also wohl eher nicht:
"I guess the most embarassing thing would be things, where I was imitating somebody else in an unaffective way. But again, I am not the audience, I am the artist, when it comes to my work, so I don't get to say what's good. I just get to choose what I perform. 
And there is old stuff, that I think is really good. I am thinking more of songs that weren't singles, that I barely even performed for anyone and it's just on the records because I was like 'Let's put this on!'. And I wouldn't have now."
Wir reden nun lange darüber, ob es okay sei, wenn Arbeiten oder Schriftstücke von Künstlern nach deren Tod veröffentlicht werden, auch wenn diese sich zu Lebzeiten stark dagegen gewehrt haben. Es bleibt die Frage, was mehr wiegt, das Recht des Publikums auf unveröffentlichte Kunst oder der Wunsch des Künstlers, diese möge nicht veröffentlicht werden.

"It is hard to resist, but I really don't want to read Kurt Cobains diary even though I am super interested in Kurt Cobain and Nirvana. And I kind of think that it shouldn't have been published. But then, there is Franz Kafka and all the stuff that he wanted burned and it's some of the greatest writing ever. And it is hard to say that it should have been burned", lacht er. "
The thing is, I don't know why you would care. I don't see a reason to not allow it, if people want to read or listen to something you made. I don't mind. But I don't have the privacy instinct. I don't have an instinct to keep my secrets. You can read my diary, I don't care. My goal is to get my secrets out more and stop telling lies."
"Are there moments when you see your creativity as a burden? Do you sometimes feel driven in a negative way?", frage ich. 

Ezra Furman denkt wieder sehr lange nach, antwortet dann aber entschieden "No!", und nach einer weiteren Denkpause, "There is a bunch of hard stuff about being an artist, but the urge to make art is not a hard thing. And I think it is a good thing that makes my life better. There is a bunch of other hard stuff. But to see the creative impulse as a burden would be like blaming myself for a bunch of bullshit that is not my fault. Stupid things about the industry, or what is necessary to do this as a career. If I get sick of all that, I won't get sick of making art. I like the question, though. It's hard to tell, but it's a no. Not a burden. The burdens are elsewhere." //
Ezra Furman Interview und Text: Christina Masarei
Fotos: Musicglue Images Prod