On August 19, 2017 I attended Encore Festival in Amsterdam, one of the bigger Hip-Hop festivals, to see Russ. I had been listening to Russ' music, watching his interviews , and following him on social media for quite some time at that point and I really liked his music and the fact that he is a self-made success story: He has been active for 10 years now and only recently has had his breakthrough followed by being signed to a major label. In addition, he is also very unique in that he writes, produces, masters, mixes and engineers his tracks (as he points out in every single interview). I really wanted to know what he would be like live, so the decision was clear to go to Encore Festival 2017.
Going through specific experiences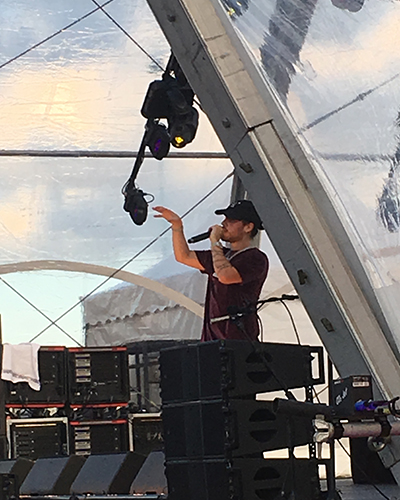 First of all, I was impressed by how similar to his recordings he sounded live on stage. In addition, I liked that he took his audience on a journey through the thought process behind every song he performed: He explained the background of every song shortly and shared a lot of personal stories, which allowed myself to really get into the feeling of every song and identify myself with what he must have felt when going through these specific experiences. After the first couple of songs, it kind of became obvious that Russ was not too happy with the audience as people were rather quiet. He must be used to others more enthusiastic ones. I do not think that he was aware of the fact that people that go to festivals come for various artists and as Russ was not the main act, there were not a lot of die-hard fans that knew all the lyrics and went crazy for him (However, it must be highlighted that my voice can be heard in every video).
Russ left a confused audience behind

It seemed like he was disappointed because the crowd was not more excited about him. Later on, he started naming and shaming women that had broken his heart, which was kind of inappropriate in a setting, such as a festival, where people want to have a good time instead of being brought down by a performer who seemed to be dealing with relationship and trust issues and really seemed like he needed to get things off his chest, in addition to a hug and/or a therapy session. The extreme peak was also the end of the concert, when he announced that he had recently had slept with a woman who he once loved but is now married and has two kids. This last sentence left a confused audience behind, that was not sure whether this had just really happened and whether he would come back on stage to announce that this had been a joke. To me this behavior is what I would consider typical for Russ, from what I have seen in interviews: He sometimes has a chip on his shoulders and can get cranky when he feels like people do not give him enough credit for his music. I love that he shared so many private stories but in the end he kind of crossed a line and kind of ruined the mood by venting and shaming women who had hurt him. No-one can say the concert was boring for sure. What is most important, however, is that, musically, Russ has left a very good impression. //

Text and Pictures: Elena Todeva