12 September 2017 was a rainy day and a Tuesday on top of that BUT nothing could have stopped me from seeing Pete Rock and CL Smooth perform at Paradiso Noord in Amsterdam that evening. I mean these two are not your run-of-the mill rappers. No: These two are Hip-Hop architects and legends.
High expectations and no disappointments
Not many in the Hop-Hop game have shaped this genre as much as Pete Rock, a pioneer and a key figure in Hip-Hop and immensely influential to this day. Together with rapper CL Smooth they wrote Hip-Hop history and have left a mark on this genre for generations to come. Therefore this concert was an absolute must for a Hip-Hop head like me. Even though I was still a little traumatized from Busta Rhymes' concert in Amsterdam in July 2017, which was an example of concert gone wrong, I went to Paradiso Noord with very high expectations and was not disappointed; quite the opposite: I was reminded of why I love Hip-Hop so much.
The magic and power of music to connect people
Pete Rock and CL Smooth came, performed and blew the crowd away. They reminded me of what the essence of Hip-Hop is really made of. Not only did Pete Rock magic with his turntables, but he also impressed the crowd with his MC and rap skills and proved his talent and versatility once again - as if he still needed to convince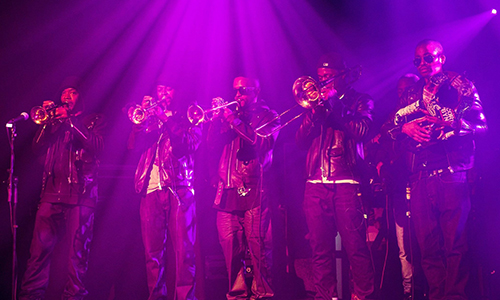 anyone. While Pete Rock was mostly behind his DJ deck, CL Smooth was in front. He went full out and demonstrated how talented he is as a performer and entertainer: He danced and interacted with the audience throughout the whole show. He signed numerous album covers between tracks and dedicated one song to a fan in a wheel chair in the first row, whose eyes lit up; a beautiful thing to witness first hand: the magic and power of music to connect people.
They Reminisce Over You
Later on, CL Smooth wiped away his sweat with a towel and gave it to me, as I was probably the loudest person in the crowd. Needless to say this towel is safe with me and I guard it with my life. My personal highlight was "They Reminisce Over You", accompanied by a surprise performance of Hypnotic Brass Ensemble, a band from Chicago made up of seven sons of jazz legend Phil Cohran who was an American jazz trumpeter and occasional zither player. Cohran was a member of the Sun Ra Arkestra from 1959 to 1961 and early in his career he invented an instrument he called the Frankiphone (aka Space Harp) which is actually an electrified mbira or kalimba. The instrument is heard on some of Sun Ra's early albums. After the concert fans had the chance to take pictures with CL Smooth and members of Hypnotic Brass Ensemble. It really impressed me how down-to-earth CL Smooth was and how friendly he was towards his fans. Summarizing, I can say that this concert was one of the best Hip-Hop concerts I have ever been to. My expectations were not only fulfilled but exceeded (and my Busta Rhymes trauma forgotten). //


Text: Elena Todeva
Pictures: Lotte Dale